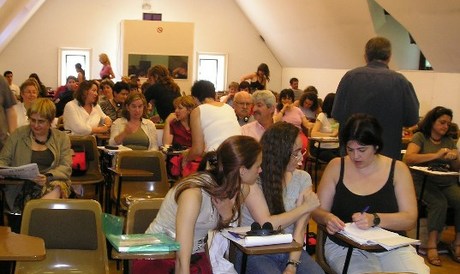 Lecture 3: Putting the forces in motion: Applying technology to foster writing through motivating online environments
For the third of my three lectures given as part of my short course on writing on the Internet 11th-13th July 2007 during the XXVI Summer Courses of the University of the Basque Country in San Sebastian, Spain, I was asked to focus on Resources and ideas for learning to write on line.
Language technologies and engineering offer us powerful resources to help us write and teach writing, such as multi-user virtual environments, pen pals and class collaboration projects, blogging, wikis, Google docs and mapping tools. These greater-picture enhancements can make use of lower-level spelling software, readability analysis systems, automatic assisted translation, terminology data base, plurilingual textual corpora, etc. We also have software that register our writing process, huge on line writing labs, with lots of materials, outlines and information. How we can use these resources in the classroom and in on line courses? What implications do these resources have in the learning of writing?
- The text of this lecture is here:
http://www.homestead.com/prosites-vstevens/files/efi/papers/tesol/ppot/2007/basque3.htm
- The slide show is here:
http://www.slideshare.net/vances/lecture3-putting-the-forces-in-motion/
- The recording of Lecture 3 is here: https://sas.elluminate.com/site/external/launch/play.jnlp?psid=2007-07-13.0325.M.7AE801FFB697DA460D4BF25AA8C21B.vcr